It's the start of the week and i will want to start with the letter A.
A stands for APPRECIATION.
i guess once you become a shutter bug you learn to appreciate better. And in this i would be a fake if i don't give due credits to my tutor Mr Jyotirmoy Das of Delhi School of Photography for bringing it on me not with full force but rather as a matter of fact ly . When i had no idea about the gadget or anything and when i was a point and shoot cybershot woman he was the one who patiently taught an ignoramus like me not to be afraid to shoot manually apart from teaching me the three most important cornerstones of photography for beginners and everybody else. Yeah basically , The Aperture, The Shutter Speed and The ISO.
Telling the truth is not only painful and but quite embarrassing too but i will speak it. Fact is that i am almost six months old now when i was in my beginner's class for two weeks but still grappling with those three corner stones and they feel like major issues to me each time i pick up my DSLR and thus i improvise each and every time. i have decided to carry on with the rest of the learning on my own not getting flabbergasted with that chart half of which i never seem to remember correctly and it makes me so nervous that i start steaming so much that the viewfinder becomes foggy with my breath. So just like everybody else does it i too am now doing it all by the time tested trial and error method. Those three and all those lectures in that 2 weeks of theory class, can't say i remember them all but some of it has stayed and they sure do help yet some are like etched into the brain.
i hear him speaking...i see him...tall, elegant, gym worked out slender frame standing in front of the class , his muffler carelessly wrapped around his neck, and from behind his spectacles his eyes looking straight into my eyes telling me, ''
You have to show what the eyes would've missed
seeing
... "
i think i am crazy about photographers...for their eyes see what we normal non photographer mortals don't. A bird as common as crow then becomes novel, original, fresh, firsthand, contemporary, unfamiliar, additional, just starting out...
Sometimes words won't suffice and other times you have one specific word for the picture.
But the best aspect that i love about photographers and the art of photography is how they teach you to appreciate the mundane and then go for it. Keep trying for that, ' Out of the box' shot, a picture which is worth a thousand words.
Thus photography as a passion/ career/ hobby is great because it not only teaches the art of seeing things in a new perspective but also to appreciate
what
is
.
i must admit though that it was the desire to use my own pictures for blogging that i took up photography. Seriously, because neither did i have it as a hobby earlier nor do i remember of me having any passion for it. i am at the moment just learning to focus then and focus well and clear...as clear as what i am seeing or how and what i am seeing and thus through my pictures what i would love to make others see as well .
Thus it happened with me.
Although i love nature i had not fully appreciated the beauty of this particular plant because i was seeing it in plenty around me. Just like plain common grass. It could be that maybe excess of anything for that matter does not bring worthiness nor honor. Well the adage was used for love but it can be applied to anything and everything. However in Economics we have a great principle which puts this across with the help of figures and diagrams. The Law Of Diminishing Returns. Well, Whatever...
Not until i came upon this picture. It was posted by someone and i hope that someone would not mind me using it as a reference here. i have forgotten the
URL
from where i had copied and saved it. And although i can search it which i will later and post it as giving due credits to the master of this brilliant shot i was in a hurry to do my Monday post because i did not want my thought to become a memory of words that i can't retrieve. It happens, you know when you are in the mood to do it, you just do it that way right then. Next time the same sincerity of words might elude you and even your own thought process may be roaming elsewhere. It might've hitched itself to another star. Today my
star
is my Sir and his teaching. He gave me my brand new eyes !!
And with that i see everything as new...novel...firsthand...unfamiliar...original...
That...about the
sight
...about
appreciating
the mundane and the most common ...
Definitely this picture was like a catalyst to all of Sir's teaching to me. As i looked into into it Sir's words made real sense. " OMG...the flower is so beautiful...so pretty! ", i said to myself ," How could i not notice it before???"
Had it not been for this picture i would've never stopped to look at the tiny blooms that appear occasionally in this rambling ground cover bush called Purple Hearts. Yesterday as i went for my walk i was taking in the beauty of all that the season had in store for me. The skies looks overwhelmingly beautiful with the profuse blooms of Crepe Myrtles both pink and white against the azure/ blue/ background. The intermediate earth of that between the ground and the skies lush in their greenery with clusters of scarlet and vermilion blooms of Peregrina ( Jatropha integerimma) and the Firebush the name of which says it all of Hamelia patens, the Oleanders pink ,white and yellow, the Hibiscus scarlet, white and hybrid blooms of breathtaking colors... . Then as the eyes gradually move below in rhythm and harmony what do i see apart from the usual striking green and yellow foliage of the Duranta hedges ...
Purple Hearts here, Purple Hearts there and yes they were in
bloom
everywhere.
Had it not been for this particular picture i would not have halted my walk, bent down rather squatted on the ground to admire the pure pristine beauty of the tiny blooms. Noticed the three petaled lilac flower the tips of which had the purest white like a fairy had left her speck of fairy dust carefully on each one of them choosing just the right median tip spot.
http://www.pinterest.com/fleurduluxe/natural-landscapes-plants-and-flowers/
Purple Hearts are succulents that grow vigorously and require very little maintenance. Although they look attractive because of their deep purple foliage they are not in bloom always. But even without the blooms they look attractive provided one is not bored of it's too many of it factor and has used it along with some contrasting foliage plants. Mostly because of it's vigorous growth people get fed up and start removing them not unless winter sets in for then the plant itself dies out. The blooms appear now and then but they are tiny.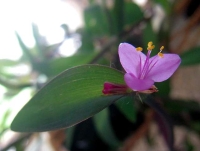 Tradescantia pallida
Also known as Setcreasea pallida
http://www.guide-to-houseplants.com/tradescantia-pallida.html
There was no way i could match the talent of the master who made me stop and look to see the beauty of my favorite color tiny flower which also had white dots on the tips of the three petals but i tried my exercise in photography inspired by that master shot remembering what Jyotirmoy Sir was telling me to do. So here is my work...in that order...how i saw them...and then the shots i took...but before i leave i must say the one i found most alluring of them all was that one which i thought was reaching out to the world with it's loudest HELLLOOUW !!...behind a netted veil.
The netted plastic veil...one which was supposed to protect it from God alone knows what...and for a moment i had that desire to bring it's face out of that veil...but then i controlled myself. Lest my mere touch should damage the pure pristine skin of this tiny cutie, hearty, lilakie, beauty.
Before i quit i want to say a bit more. Much that i want my tutor to see this post of mine i am not sure if he is following my work for he all he would know and i have told him so that i will be sincere in my
commitment
towards my gadget and my learning and that i shall do my exercise on a regular basis. For this reason although i am much against all this postings on facebook where much is done mainly for self promotion and less for real learning i have been posting some of my nature pictures on facebook for him to see. He is there...and so is his Institute informing me of all the gala strides the students in the advanced course are making. i wish them well and feel amazed at all the work that i see. Feel proud too that i know the person behind all that work and in my heart i wish him more and more success.
As for me i am just too grateful to my tutor. He has no idea what he did for me...his golden words...right from the names that dropped like hail on my bald of photography knowledge head. Of Henry Cartier Bresson to Steve Mc Curry and his various anecdotes on photo shoots did to me.
He, more than teaching me basics taught me to appreciate the mundane and see what i was not seeing before.
And for that too i am extremely grateful and highly indebted to him. i don't have better words to express but yes there was just another thing a hunch i have about photographers which i did not ask him although i wanted to. Do they ( Photographers) look right inside you...for when i see some pictures i am able to feel that, sense that.
Now that sometimes scares me because i wouldn't want anyone to look right inside me but just me and my own soul should know me that well. No one should be able to decipher me completely. Maybe a photographer can bring out the best aspect of my personality and i am okay with that...i guess i want to be like that enigma wrapped in a mystery kinda person. Point is can i be the one...hahahaha that is one aspect i need to work on. Till then...have a good purposeful week. Will be back with more and i hope Jyotirmoy Sir you are able to recieve my sincere gratitude...Thank You So Much.