i have often been questioned about Sattu in Chennai that is every time i have sattu ka paratha to offer to my guests. Surprisingly i have to exhibit the flour every time my explanation fails to give them a clear picture of sattu. This when they have their very own pottukadalai with which they prepare their chutneys every day to go with their dosas and idlis. Pottukadalai is Tamil for the dry roasted gram or chana dal/ Indian Chickpeas. So i have to explain to them that this pottukadalai or de-husked gram/chickpeas is pulverised to convert them into powder form to get a flour which is called sattu in Hindi. It is a major culinary revelation and mostly my guests ask me for the recipe.
However it becomes imperative to explain the difference between gram flour ie besan and sattu because at the outset both look the same.
The difference being that whereas besan is the flour of raw gram, sattu is the flour of the roasted gram and may look slightly coarser than besan.
The teacher in me does not miss the opportunity to explain that besan is raw gram flour only , but sattu is prepared not only of roasted gram but many other cereals.
So in Bihar we not only have gram sattu but also corn/maize/makai sattu, barley/jau sattu and of late because of it's intrinsic value as a health food manufacturers have started preparing sattus like jaljira mix sattu, nimbupudina sattu mix etc to make it even more delectable and easy to prepare .
In fact the standard sattu that was forced as a staple breakfast item or as a drink to us was a mix of 2/3 of fresh roasted chana and 1/3 fresh roasted barley.
The dinner/lunch conversation now sees me once again taking centre stage at a surprised barrage of questions ,"As breakfast..and how is that drink...is it sweet...???"
Of course i am passing through that phase when everything and anything becomes a narration, nostalgic but now with a renewed sense of pride.
Memories of how easily we replaced sattu as a staple breakfast item with bread and butter come flooding back. Just like how kids today would make a bee-line for pizza, pasta, burgers and last but not the least Maggi so did we clamor for toast and jam instead of our own nutritious local delicacies.
Just like the kids of today these were not delicacies at all...they were just some rustic, local grub discarded from the palate with a frown that proclaimed distaste and dislike.
As kids we would watch relatives on the table mix sattu with a little bit of water and salt and knead it softly to prepare a big ball of dough. Then they would divide the dough into smaller balls as they popped these balls into their eager mouths and ate with relish their favourite breakfast snack with pickle, onions and fresh green chillies.
Once in a while when it looked tempting we would reach out for these balls but nevertheless bread, butter, jam dominated our palates.
i remember the fuss created when this gruel of fresh sattu in hot milk was offered to us. Sometimes as a drink and sometimes as porridge with mashed bananas, jaggery/sugar and a bit of crushed cardamom for added flavour. This during the winters.
During summers sattu was mostly consumed as a cooling drink. One could have it either with salt or with sugar as one preferred.
A tablespoon of sattu mixed in a glass of cold water into which a dash of lemon juice and salt is added can be a cool refreshing drink that not only energises but also takes care of the small hunger that one may experience in between meals.
Alternatively this drink could be a sweet one if instead of salt, sugar/jaggery is added. If this had to be made richer still with more added calories then instead of plain water sattu was mixed into cold milk or hot milk as one preferred it.


Today i explain with enthusiasm not only about the secret ingredient which went into making these exotic and delectable parathas sitting invitingly on my table but also about the medicinal value of that secret ingredient. That apart from it being a nutritious drink it helps to combat acute gas problems and even constipation.
Considered earlier to be a poor man's food, i still remember the road side stalls piled high with conical mountains of different varieties of sattu in large aluminium plates with turned corners. Not the regular stalls that we see these days but a shaded area maybe under a tree or else a make shift shade created with four bamboo poles and canopied with jute sacks that gave it a tent like appearance.
These stalls were the dining cafes of poor labourers, richshaw pullers who could afford only sattu for their lunch or dinner. The balls that i just talked about was eaten with onions and green chillies and when the purse allowed, a small plate of any vegetable curry or simple potato fry that the stall owner had prepared for the day.
Sometimes when they had earned well enough they would be seen eating yet another item with the curry of the day.This was litti. A baked ball of wheat dough stuffed with sattu masala.
Now those stalls have vanished into thin air and sattu is no longer the cheapest item.
What is still surprisingly new is the sudden appearance of kiosks and mobile vendors selling litti chokha which are approached by one and all. In fact you could now grab a bite of litti chokha at all major stations in Bihar.
Sattu
has a low shelf life and although can be stored in the freezer, it tastes excellent when it is fresh. It is the main ingredient that is used as the stuffing for litti and sattu ka paratha.
i have not tampered with the sattu stuffing in my attempt to get innovative. So the basic stuffing masala for both remains traditional which is :
1 cup Sattu (Gram Flour)

4 pods Garlic (finely chopped)

1 " Ginger (finely chopped)

2-3 Green chilies (chopped)

Finely chopped coriander leaves

2 tbsp Masala of Red Chilli Pickle or mango pickle

1/2 tsp Onion Seeds (Nigella seeds)

1 tsp Ajwain (thyme seeds)

1 tsp Lemon Juice

Salt to taste

¼ to ½ Cup Water (to make the stuffing moist and easy to fill.)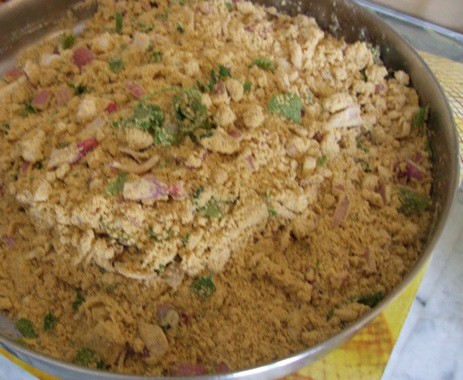 What makes my parathas unique is the slight change in the way i prepare my dough.
Ordinarily wheat flour is kneaded with yoghurt or just plain water to prepare a soft dough. My dough needs the following :
1-1/2 Cup wheat flour and 1/4 maida flour

1/4 Cup cooking oil

1 tsp pepper powder

1 tbsp kasoori methi (dried fenugreek leaves )

a pinch of Heeng (asafoetida)

1/2 tsp salt

enough yoghurt to knead the dough. A mix of a cup of milk and water can also be used if there is no yoghurt.
The wheat flour and maida flour is mixed evenly along with all the dry items. Then a well made into this mix into which we pour the cooking oil. The flour is mixed again using the fingers before being kneaded into a soft dough using the yoghurt or the milk water mix. The dough when ready will not stick on the fingers and will look as soft as a baby's bottom.
The rest of the procedure is the same as we prepare aloo parathas.
First make a cup out of the flour dough, as shown in the picture below


Now put the stuffing into this and close the openings as shown below
Finally press the ball gently to flatten it a bit, as shown below
After this the choice is yours. Which is... either you can roll it into rotis and fry it on a griddle with cooking oil or ghee (clarified butter) to make sattu ka parathas or if the craving is to eat litti then just bake these slighty flattened balls in a hot oven.
The littis when done would have dark brown spots and might look cracked. Which is best because then they soak up the clarified butter ie ghee even better. If not then it is broken open with slight pressure using both hands before dipping them in a bowl of melted ghee.
Both these items taste great with mutton curry however the basic vegetarian side dish that tastes yummy with litti or sattu ka paratha is chokha or bhartha.
1 Roasted Egg plant (Big round Brinjal or aubergine)

Potato - 2 (baked potato best but boiled potatoes can also be used)

Tomato - 2 ( roasted)

1 Onion ( finely chopped)

2 Green chilies (finely chopped)

2 cloves Garlic (finely chopped)

1/2 inch Ginger ( peeled and grated)

Finely chopped coriander

Mustard oil - 2 tsp

Salt (to taste)
First the brinjal/aubergine is roasted on fire over low flame. This is done best by turning it over on the flame at regular intervals to allow it to roast evenly on all sides. The peel should turn black and flaky.
Then it is allowed to cool and the burnt skin is removed carefully. Similar procedure for the tomatoes too.The roasted brinjal/aubergine, tomatoes, and boiled potatoes are then mashed properly till there are no lumps. Now the rest of the ingredients are added and mixed thoroughly. The chokha or bhartha should look like this:
So far as litti and sattu parathas is concerned i must however remember to point out that since these dishes are made rich using lots of clarified butter or ghee to achieve the perfect taste it does induce extra thirst at times.
i am sure that it is not unusual to crave local dishes when you are away from your homeland for a real long time. i guess it is the absence or a lack of it for a substantial period of time that creates the sudden craving. For what is easy and commonly available we won't even bother. Further to develop appreciation for both local cuisine and culture a particular mature age is needed. After having been there and eaten that...
i still see the same thing happening around me and it's like history repeating itself.
So to all my friends who have kids fussing and creating a ruckus over local cuisine and asking for burgers and pizzas i always have the same thing to say.
" Let them fly out of your nest and you'll see them asking you for your regular dal, even greens, and all the regular local grub when they come back during semester breaks...have patience. Wan't it the same when we were young?..."
The look of irritation evaporates and nostalgia sees us smiling and comparing notes of forgotton foods and many many more.